Posted by Aileen Cuaresma on 19th Nov 2018
Christmas is just around the corner, and the little princes and princesses in your life have no doubt been dropping tremendous hints about want they want from Santa.
There are plenty of toys and gift ideas for kids during the merry season which can overwhelm any parent. Choosing the perfect one that can light up the eyes of your kids is quite difficult. As much as you want to give them what they want, you also want to stuff their Christmas stockings with something fun, safe, and educational to help their developmental stages.
Well, how about surprising them this year by taking a pick from the wonderful toys we've rounded up for the season?
Hape Friendship Stacking Cubes
The Hape Friendship Stacking Cubes are decorated cardboard boxes perfect for building and learning. Children can stack, sort shapes, study the landscapes, or practice counting! They can also try stacking the blocks in different orders and see if that affects the puzzles. Children will surely enjoy interacting with cute animals and have so much fun stacking and restacking their homes.
Hape Little Red Rider Ride On Toy
The Hape Little Red Rider is an award-winning clever toy! This wooden car transforms from a balanced walker to a foot-powered ride-on. It even has room to keep essentials in its "trunk." Once your child is comfortable pushing the walker, you can encourage pretend play by transporting animals, dolls, or blocks.
KidKraft Retro Kitchen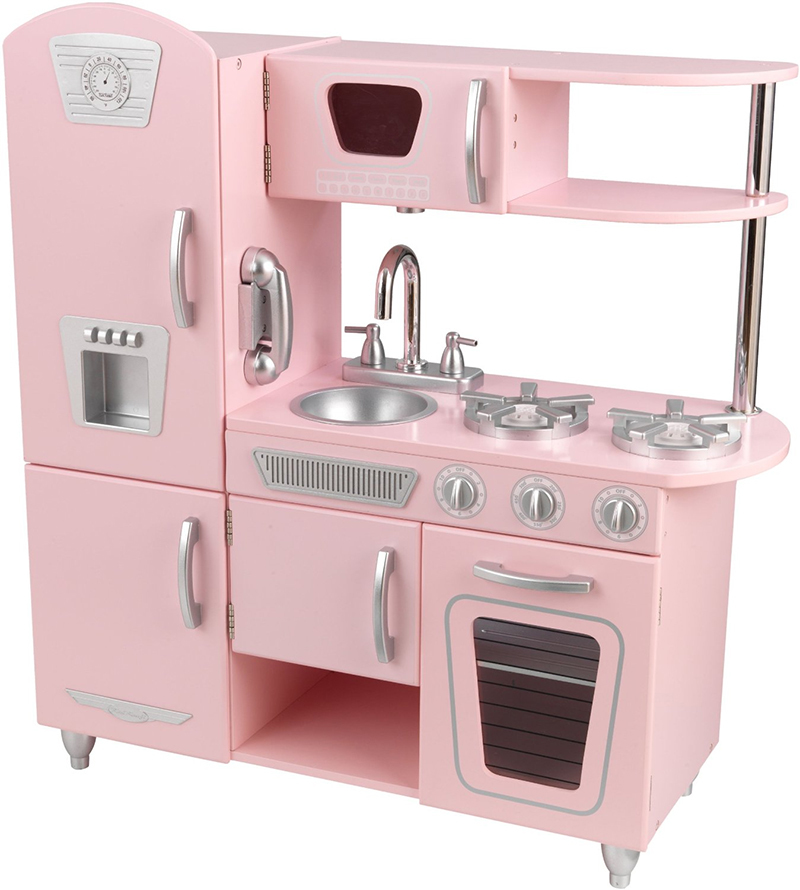 Watch your kids cook up a feast for the entire family with the KidKraft Retro Kitchen play set available in charming pink and lovely red colours. The young chefs in your life are sure to love this wooden kitchen's sweet colours and adorable details.
KidKraft Teeny House Dollhouse
Kids will spend endless hours of imaginative play with the KidKraft Teeny House Dollhouse with a pull-along hitch. This one-of-a-kind dollhouse is inspired by the adorable, space-saving tiny house trend, proving that size doesn't matter when it comes to fun. It features 2 levels and 6 rooms, including a rooftop deck, and comes with 10 piece furniture and accessory set.
KidKraft Pirate Cove Play Set
Do you have a little adventurer? The KidKraft Pirate Cove Play Set includes everything young imaginations need to embark on grand adventures! The fully-outfitted four-level pirate hideout features a jail cell, a light-up treasure chest, a rope ladder and a pair of cannons with lights and sound. This superb toy is big enough for your kid's friends to join in the fun.
KidKraft Deluxe Wooden Easel Espresso
Catch every masterpiece of your little Picasso with the gorgeous KidKraft Deluxe Wooden Easel Espresso with paper roll and spill-proof paint cups. The double-sided design features a dry-erase surface on one side and a chalkboard on the other. It also comes with useful trays for storing crayons, chalks, makers, and all other art supplies.
Le Toy Van Rainbow Cloud Baby Walker with Blocks
The Le Toy Van Rainbow Cloud Baby Walker is a unique baby walker in a cloud shape with 45 rubberwood blocks painted in vibrant water stained rainbow colours and a great assortment of shapes. The sturdy wooden construction offers support to develop your child's confidence. The traditional wooden rainbow blocks encourage shape recognition, develop hand-eye coordination and imagination.
Hape Country Critters Play Cube Activity Centre
The Hape Country Critters Play Cube Activity Centre includes mazes, shapes, levers, and plenty of flying, swimming, and croaking creatures turn. This colourful, five-sided activity center is a hub of fun and exciting activity. Made of sturdy wood with water-based paint that will stand up to years of play.
Le Toy Van Cherry Tree Hall Dollhouse
The Le Toy Van Cherry Tree Hall Dollhouse is the crème de la crème of the brand's dollhouse collection. It's a grand 920mm high 4 storey dolls house with a floral motif. Every room is decorated differently. It features numerous window styles including functioning shutters and back windows to allow light to shine through. It also includes chimney stacks and staircases with banisters that function as room dividers.
Hape Mighty Mountain Mine
Watch as your kid drive their train from the surface of a mighty mountain into the busy mine operating deep inside! The Hape Mighty Mountain Mine is an award-winning multi-level train playset that provides the ultimate wooden-railway experience and includes a waterfall tunnel, an obstacle bridge, a crane, a conveyor belt and a repair station!
Holiday Toys Safety Reminders
Once the holiday is here, your kids will be receiving plenty of gifts from friends and family. You may think that all toys are harmless, but a lot of children each year are hurt by some of their favourite toys.
There are certain toys that may not be suitable for all kids. As a parent, you should be vigilant enough to inspect the toys of your children. Furthermore, you should always make sure that it is appropriate for their age.
Here are some useful tips to help ensure your child's safety when creating your Christmas toys checklist:
Read the warning labels on the box for details on how to use the toy and what ages it is safe.

Buy large toys and those with bigger accessories that will not fit in your child's mouth to prevent choking.

Try to avoid buying toys that shoot objects in the air. These can potentially injure your child's eyes.

If you have a younger kid, stay away from play sets with tiny magnets. If you're buying a toy that uses batteries, make sure they are safely secured within the toy. Ingesting any of these will put your child's life at risk.

Make sure to buy only sturdy, durable and quality toys without sharp edges.

Soft toys should be well-made, and all parts are tight with secure edges and seams.

Always check if the toys that were given to your child as gifts are appropriate for his or her age before letting them play with it.